Indulgent grandparents 'bad for children's health'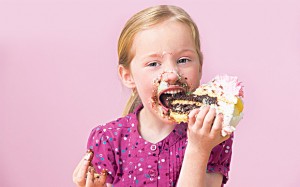 Indulgent grandparents may be having an adverse impact on their grandchildren's health, say researchers.
The University of Glasgow study, published in PLOS One journal, suggests grandparents are often inclined to treat and overfeed children.
The study also found some were smoking in front of their grandchildren and not giving them sufficient exercise.
But Maureen Lipman, a grandmother of two, said: "The grandparents' job is always definitely to indulge."
Children with obesity 'need NHS help'
Parents 'may be overfeeding infants'
The researchers looked at 56 studies with data from 18 countries, including the UK, US, China and Japan.
The report focused on the potential influence of grandparents who were significant – but not primary – caregivers in a child's early years.
The review considered three key areas of influence:
diet and weight
physical activity
smoking