Mixing Work and Play… Because Our Work IS Play!
Come and join our team. We need fun, friendly and energetic individuals to join our team of  committed franchisees and coaches.
Our team collectively deliver the Stretch-n-Grow programmes to thousands of children daily in  pre-schools, nurseries schools and early years settings in the UK and across the world.
We are constantly on the lookout for franchisees and coaches that have these qualities . This is to expand our nationwide network and spread the word about our healthy activity programmes.
If you are looking for a career change, if you would like to work with early years children. Or if you always wanted to do something like this but you didn't know it existed. The time could not be better! Full training is provided. Read on for additional information

WHAT WE NEED:
We want Super talented coaches to lead our classes for children (ages 18 months-5 years)
Required 1 year commitment from YOU to provide Excellent Service, Exciting Classes and Engaging Relationships with our children and schools!
Team members who have: Experience with groups of children or a strong desire to work with them!
Your own vehicle.
A clean record
WHAT WE OFFER:
A culture of positive energy + teamwork + support + FUN
A team fully equipped with lessons, apparel, music & equipment + paid training
Extensive experience in working with children you will love, leadership, and team building
Permanent part-time opportunities (6-12 hrs p/wk – No evenings or weekends!)
I have been extremely fortunate to spend the last 15 years as a Stretch-n-Grow Coach in East Cheshire. It has gone by really fast and I was reminded of this when I bumped into a 14 year old girl whom I had taught when I first started. I did not recognise her, but she spotted my uniform and said that she had happy memories of Stretch-n-Grow and learning about her muscles.She told me that she was now a committed "Goal Attack" for the under 15 netball team at a local high school. Hopefully her experience as an enthusiastic Stretch-n-Grower helped sow the seed of a lifelong love of sport.

Coaches Strive to Deliver

We, as coaches strive in our classes to deliver a fun filled, action packed variety of classes. At the moment we are concentrating on a Summer Fitness Challenge (to coincide with an exciting summer of sport including the World Cup and the forthcoming Commonwealth Games). Thus far it has been extremely well received by staff and children at all my nurseries, if the coach is having fun in class the feeling spreads to the children and they learn so much more. And this is the point of our classes, to show that exercise is NOT a chore, it can become something we look forward to with relish. It is something to be enjoyed with ALL the family, as we encourage our "Stars" to get the 'wellies' out and go for long walks with family, friends, dogs etc. we want our "Stars" to spread the message and talk about their muscles, and healthy eating at home.It is a real privilege to work with some extremely motivated and talented staff at our nurseries. When I tell them the children are a credit to them and their parents, I really mean it! And above all after 10 extremely happy years I find it an immense privilege to work with our lovely young "Stars". Their skills and facility to learn never cease to amaze me. We provide ,the plan, all the equipment ,energy, enthusiasm and heaps of praise for a fun packed lesson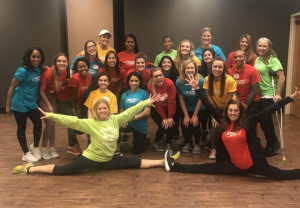 For more information on becoming a Stretch-n-Grow franchisee or a Stretch-n-Grow coach* Please contact us
*For coach positions a franchisee has to be present in an area, in order to employ,train and manage the coach.